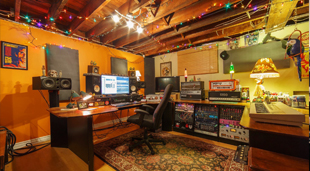 Uplift Recording Studio is a one-stop shop for all your recording needs. Uplift Recording Studio is a full service recording studio with a 25x13 Tracking room, enough room for a full live band to track "live off the floor" as well as a 15x35 control room. Our tracking room was designed to have a very live but controlled sound, perfect for drums and voice.

There is a lounge with a 50" flat screen TV, Playstation and Netflix so that you can unwind during a session if you need to. We also have all the kitchen ammenities that you will need on those long sessions.

We are conveniently located in Montreal Quebec, right next to downtown, and near plenty of ammenities and Monk Metro Station.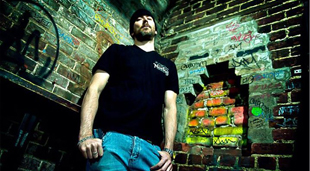 Kevin Jardine is the kind of guy you want to spend time in the studio with. He has the know-how of a 20+ year career with his band slaves on dope, touring the USA, Canada and Europe and amassing over 100k of records sold. This also includes 3 world-wide record deals with Divine Recordings (Priority Records), MCA Records, Rocket Science and currently The ILS Group. He has worked with Grammy and Juno award winning artists in his studio along with having radio singles chart in both Canada and the US. Kevin has worked with some of the best people in the music business, Sharon Osbourne, Thom Panunzio (Geffen Records), Arnold Lanni (producer) and Troy Van Leeuwen (QOTSA/producer)).

Kevin's strengths lie in production and songwriting, taking the artists songs to the next level, while at the same time maintaining the integrity of the band. He is there to help you realize the album of your career; the one that will survive passing trends as years go by. There are many ways to make a record, but Kevin honed his skills in recording studios in the 90's making records to tape with analog gear, using digital now only to enhance the product further. Having worked in such studios as A&M/ Henson, Studio Victor and Arnyard studios, Kevin now owns his own 1500sqf studio in Montreal, ready for all your recording needs.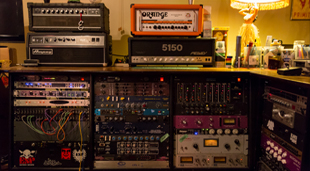 Only the best in Vintage analog gear as well as state of the art digital recording equipment. We have a 70's Neve Console in the studio as well as lots of outboard compressors like Urei, Universal Audio, ADR, Empiricle Labs and DBX as well as outboard EQ so you can track completely with high end vintage analog.

We have lots of great microphones to pair with whatever you are recording, be it voice, guitars or drums......we have what you need to capture the sound you want.

We have over 25 guitars and basses including vintage Gibsons, Fenders and ESP. 10 tube amps including Vintage Marshall's, Fender and Orange. We also love our 3 drumkits especially our DW collectors. Please see the Equipment page for a detailed list.
our vision
Better Songs Have you ever wondered why bands have record deals and yours doesn't? Well 99% of the time it's because they have great songs and have worked with a producer that helped bring out the best in the band and their songs.
What I can do for a band is cut years of learning in only a few weeks in the studio. I work intensively on the songs in pre-production and help with re-writes if necessary. This is included in the recording process.....no other studio will include this at this level. I also know how tight budgets are for young bands, and I don't believe in charging "by the hour". I prefer to work on a per-song basis. That way, you can achieve everything that you want, without worry of a certain time-frame.
read more
Our team